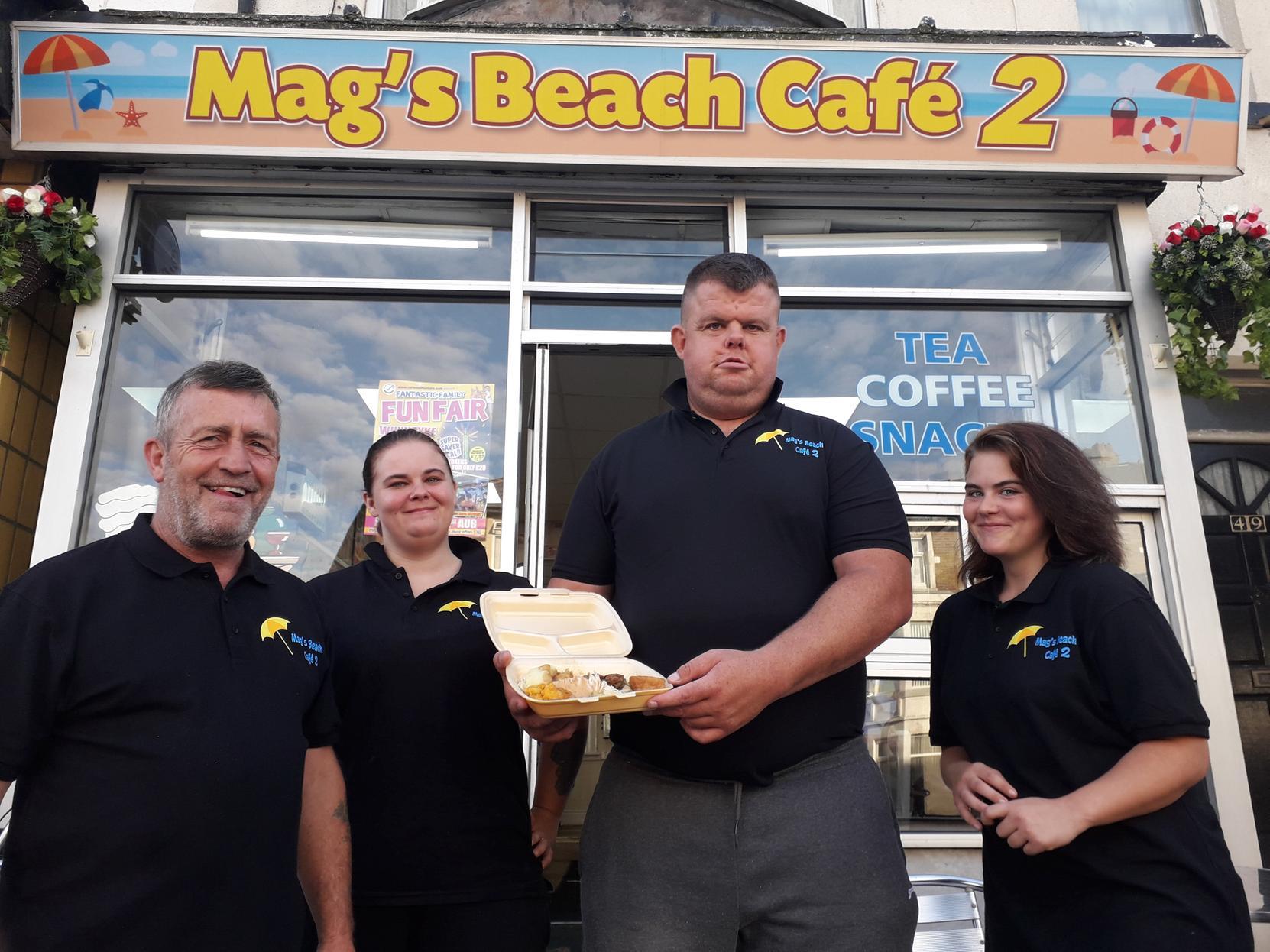 From left, George Reilly, Sylvia Parkes, Ryan Smith and Rebecca Parkes during the soup kitchen at Mag's Beach Cafe 2 on Lytham Road.
Ryan, 34, who has raised funds for many causes in the town, wanted to do his bit for homeless people in the resort who don't always get to have hot meals.
So he approached pals who runs Mag's Beach Cafe 2, on Lytham Road, and they generously agreed to run soup kitchen sessions every Wednesday evening, from 6pm onwards.
The first one was last night, when five homeless people turned up, as well as a dad and his three children.
Big Ryan Smith with Luca Vettese from Notarianni Ices
They were all treated to a roast dinner, followed by apple pie and ice cream – the latter being donated by Blackpool ice cream parlour, Notarianni on Waterloo Road, for the rest of the season
Ryan, of South Shore, said: "I'm really pleased with the way it's gone, they're telling me it's some of the best food they've ever had.
"Hearing that makes it all worthwhile, it feels good to be able to help."
Cooking and serving the food were the kind-hearted team who run Mag's Beach Cafe – Sylvia Parkes, her partner George Reilly and her younger sister, Rebecca Parkes.
Sylvia, 30, said: "I've been at a low ebb myself, when things were rock bottom, and I was given some really good help.
"So it's nice to be able to give something back.
"The cafe is closed on Wednesdays anyway, so it's gives us plenty of time to prepare the food .
"We'll keep this going as long as we can – we cook food for a living so this is how we can help people."
Rebecca,,25, has even prepared packs including baby wipes, tooth brushes, tooth paste, Covid masks and a hairbrush, that homeless people can take away.
She said: "If we can manage to help, we will, it doesn't hurt to be kind."
Don Pitton, 44, who is currently homeless, said: "I give them all top marks – when you're on the streets not everyone wants to bother with you, so this is out of the ordinary."
Father-of-three Jonathan Buck, 48, who lives in South Shore, who said the coronavirus had affected his work and left him in financial arrears said: "A lot of people find it hard, especially in a place like Blackpool where the economy doesn't last all through the year.
"This has been great for me and the kids."
Big Ryan added: "I can't thank the cafe enough for doing this and making it possible."
Luca Vettesse, of Notarianni, said: "Big Ryan does a lot for the community, we were only too happy to donate some ice cream."