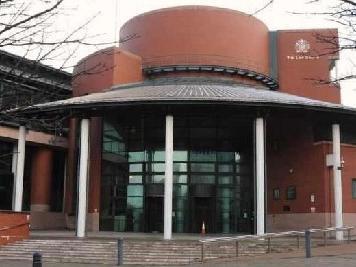 Bartosz Pokorski, 23, shouted: " Bleed to death b*tch" and other degrading words as he attacked Justyna Pokorski at the flat they shared on Hornby Road, Blackpool.
He admitted attempted murder during a hearing before Preston Crown Court.
Judge Robert Altham imposed the extended sentence for the public's protection, after concluding he posed an "unpredictable and dangerous" risk.
Presto Crown Court
He accepted mitigation that Pokorski had blamed mental health issues for his actions, but said: " I can't ignore the fact this was a frenzied and brutal attack in which she was stabbed in the face.
"The defendant, because of his guilty plea, accepts that his goal was to kill her."
Preston Crown Court was told the victim had described her son as suffering from depression but said he had never been threatening or aggressive towards her.
But in the few days before the attack he had behaved oddly, shouting in the street when coming back alone from shopping.
Bartosz Pokorski
On the morning of January 11, he asked his mother to come into his bedroom and look at some photographs.
He began shouting and swearing at her and had a kitchen knife in his hand, which he stabbed her in the shoulder with.
She tried to protect herself with her hands as he rained blows on her, accusing her of trying to get him put into a psychiatric hospital.
Pokorski threw his mother to the floor and kicked her in the ribs, still shouting at her to "die".
Prosecutors said she decided to pretend she was dead, at which point Pokorski walked into the bathroom. She took the opportunity to flee but he heard her and shouted: "Where are you going b*tch?"
The victim managed to get out of the flat but was very weak and collapsed.
A neighbour saw her and alerted police, and one officer thought Mrs Pokorski was dead at first due to the position she was in.
Pokorski was arrested in the street after an officer found him extremely bloodstained.
He remarked: " I've stabbed someone – arrest me."
Mrs Pokorski had to be treated in hospital for a month for her injuries, which included a collapsed lung, and facial stab wounds that required surgery.
Her son gave a prepared statement to police in which he referred to having mental health issues in his childhood for which he'd sought help from GP over the years but with little success. He argued he did not not believe he had "legal intent" due to his issues.
He had no previous convictions and the defence chose not to serve a subsequent psychiatric report.
The court heard the background of the attack was deemed a mixture of an "explosion of rage" at the world and an element of attention-seeking, in an "apparently twisted belief" that if he did this the world would take notice of him.