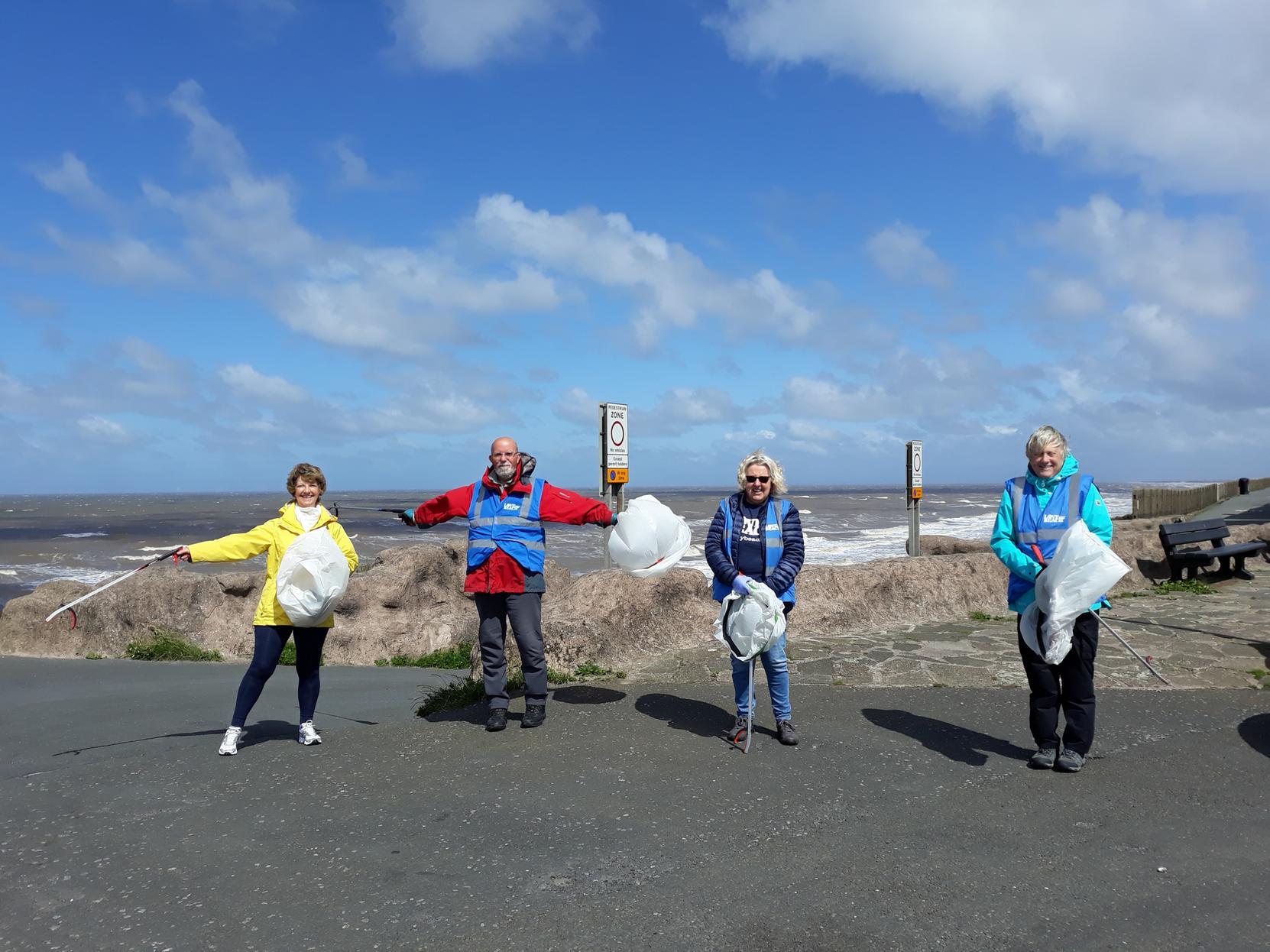 Penny Dalton, Ian Pratt, Carol Mooney and Sue Carrington of Bispham Coastal Care. Picture by LOVEmyBEACH
People from the environmental campaign group LOVEmyBEACH returned to the sands with small, socially-distanced litter picks back in June, and since then have removed a whopping 2,600kg of rubbish.
Disposable barbecues, crisp and sandwich packets, plastic wrappers, buckets and spades, picnic rugs and even deck chairs have been dumped on beaches from Lytham to Fleetwood as people headed to the coast to make the most of the sunny weather during lockdown.
Volunteers spent more than 200 hours cleaning up the mess in the past month. The St Annes North Beach Care group, made up of six people, removed more than 190kg of litter from the beach and sand dunes alone.
Some of the rubbish picked up from Bispham. Picture by LOVEmyBEACH
Emily Parr, of the Fylde coast LOVEmyBEACH team, said the recent surge in visitors has been 'disastrous' for local beaches.
She said: "Litter over the lockdown has been terrible. We're seeing sizes of litter than we have never seen before.
"It's down to a combination of factors. There are more people on our beaches now, and council services are stretched. There was a huge surge of visitors when the lockdown first eased in June, which is why we saw so much litter on the beach then.
"Unfortunately the litter that we are finding is litter that people have dropped. In normal circumstances the litter we pick up is stuff washed up by the tide. But now people are leaving barbecues behind, they are leaving crisp packets and plastic bottles. We have had people leaving chairs behind, buckets and spades, towels. It has been awful. Anything you can imagine people taking to a day at the beach they have just left behind.
Penny Dalton. Picture by LOVEmyBEACH
"The volunteers are litter-picking daily and yet visitors come to our beaches and leave litter behind.
"Obviously it's not everybody, but recently it seems to be a high proportion of people."
LOVemyBEACH's beach cleans were suspended back in March due to government restrictions as a result of the Covid-19 outbreak, however volunteer clean-ups resumed at the beginning of June in small groups of six observing social distancing and following the strict government safety guidelines.
Before lockdown, some 250 LOVEmyBEACH volunteers were out each month on the Fylde coast, and collected more than 9,000 bags of litter in the past year.
Ian Pratt. Picture by LOVEmyBEACH
Carol Mooney, volunteer leader of Bispham Coastal Care, said: "As a volunteer I have been concerned about the amount of litter which has accumulated since the lockdown. So I was really excited to hear that Keep Britain Tidy and LOVEmyBEACH were restarting all beach cleans and litter picks, and it was a great relief to hear that safety was made a priority by limiting groups to a maximum of six people. It was lovely to meet up with other volunteers again and it brought back a little bit of normality in a strange world."
The ongoing litter-picks, which are carried out by 14 teams of six volunteers, are still not open to the public while social-distancing rules are in place.
Regular beach cleans will resume when Government guidelines say it is safe to do so. Meanwhile, the group is calling on beach-goers to respect the environment and keep the coast litter-free.
Emily said: "We would ask everyone who comes to the Fylde coast to play their part and use the bins provided by the councils. If the bins are full, then people should take their litter home and bin it there. Leaving rubbish next to a bin is still littering and people can be fined.
"With our wonderful volunteers back out beach cleaning and protecting our coastline once again, the campaign is now calling on the public to do their bit and use a bin or take their rubbish home."