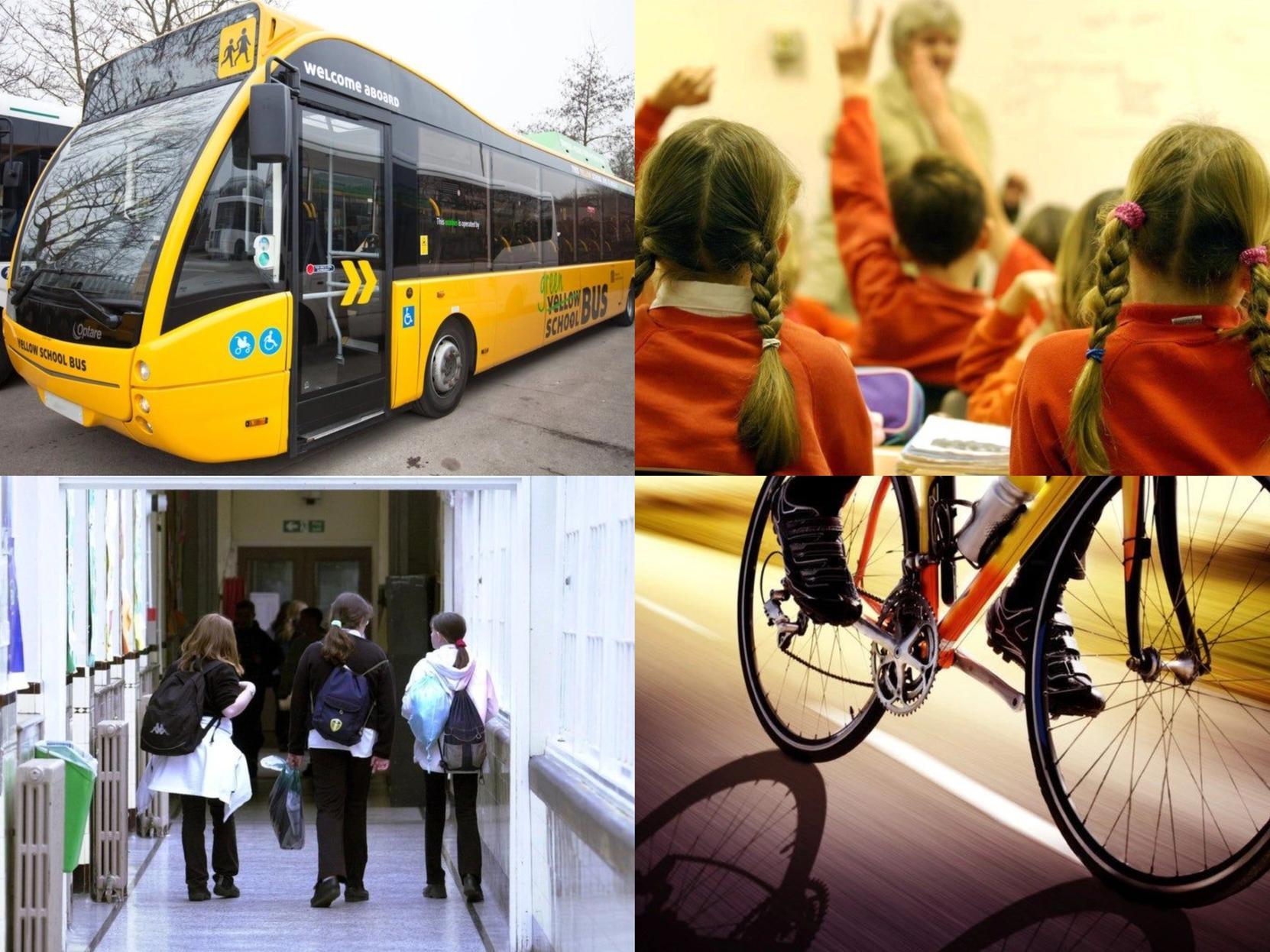 Lancashire County Council says that it plans to commission "duplicate" vehicles to increase capacity in some areas where existing dedicated services for schools and colleges are known to be particularly busy.
However, the authority accepts that the social distancing guidance which applies on public transport will not always be able to be guaranteed on school-only buses – after the government said that it will not be made mandatory.
Around 7,500 children are transported on Lancashire's dedicated school buses every day.
School transport poses its own problems during the pandemic
The Department for Education last week issued advice on how school transport should operate as the pandemic continues. It states that local authorities should do everything "reasonably practicable to maximise social distancing where possible and minimise the risk of transmission".
However, the department acknowledges that the potential for pupils to keep their distance from each other en route to and from school will "vary according to local circumstances".
Once they arrive at school, children will be grouped into 'bubbles' to help minimise contact between them – with the aim of reducing the risk of passing on the virus and limiting the number of youngsters who have to self-isolate in the event of an outbreak.
These self-contained groups are likely to be larger than those encouraged when schools in the county partially reopened in June – and they may extend to whole year groups for the oldest secondary school pupils. However, the government encourages social distancing for those old enough to appreciate the concept.
The Local Democracy Reporting Service understands that County Hall will offer to work with individual schools to draw up bus seating plans reflecting the contacts children will have in the classroom – but is largely focused on other mitigation measures, including all over-11s wearing a face covering on school-only services, as per government guidance.
Oliver Starkey, Lancashire County Council's head of public and integrated transport, said that the authority was working with school bus operators on plans to prevent the spread of coronavirus.
"These include managing queues, maximising ventilation, and ensuring vehicles are sanitised," he explained.
"We are also working closely with the bus companies to identify where there may be a need to provide additional services as schools return due to the reduced capacity on each vehicle as a result of the continued need for social distancing on public buses.
"The government has provided some funding to help provide additional services – and while it is difficult to predict how people may change their travel habits as a result of the pandemic, we are working with providers, schools and parents to identify where the needs are greatest as schools return," Mr. Starkey added.
It is understood that face-to-face seating will also be decommissioned to further reduce transmission risk.
Meanwhile, County Hall said it would be monitoring use of public bus services "from day one" of the return to school in order to assess any potential capacity issues. The government has said that local authorities should consider how they can support these all-purpose routes – where social distancing guidance does still apply – while "taking into account the needs of all passengers".
However, deputy Labour opposition group leader John Fillis said he was shocked to learn that social distancing would not be a requirement when Lancashire's dedicated school buses return to the roads next month – and he condemned the government for its policy and the county council for "going along with it".
"The confidence of parents and children about going back to school is crucial. They have been told all the way along about the importance of social distancing – and our young people have more knowledge about what they should be doing than they are given credit for.
"It's easy to imagine that some poor kids will be terrified at being put on a packed bus.
"What's the point in being in a bubble when you arrive at school if you're sandwich-packed on a bus to get there and back?
"It might now be government guidance, but we asked the Conservative administration [at County Hall] to work with us months ago on getting children back to school safely – and they have refused for ideological reasons," County Cllr Fillis claimed.
However, county council leader Geoff Driver rejected the criticism.
"County Cllr Fillis couldn't give a better illustration of why we do not consult the Labour opposition about any of our plans to keep our services going for the people of Lancashire.
"All they can do is carp and criticise and seek to make political points at every opportunity. They have nothing constructive to offer," County Cllr Driver said.
Government guidance on school reopenings states that "the risk to children of becoming severely ill from coronavirus is very low and there are negative health impacts of being out of school".
In response to the issue of social distancing on school transport, a Department for Education spokesperson said:
"Making sure all children are back in the classroom full-time in September is a national priority as this is the best place for their education, development and wellbeing.
"Dedicated home to school transport will play an important role in making sure children and young people can get to school or college safely. That is why we are providing more than £40 million to help local transport authorities create extra capacity outside the public transport network.
"We have provided detailed guidance to local authorities on protective measures to reduce the risk of transmission on home to school transport. This includes grouping together children in bubbles where possible, maximising social distancing and providing additional cleaning."
Parents across Lancashire are being encouraged to enable their children to walk or cycle to school when they head back to the classroom in September "if at all possible".
Lancashire County Council has issued the call as part of its preparations for the reopening of schools and colleges to pupils of all ages following the lockdown.
The authority says that use of public transport by children and young people – particularly at peak times – should be kept to "an absolute minimum".
The government has calculated that one in every two school-related journeys of under two miles – which are currently undertaken by bus or train – needs to be made by bike or on foot if the transport network is to maintain sufficient socially-distanced capacity.
Oliver Starkey, the authority's head of public and integrated transport, said that County Hall's new "Switch to Cycling" campaign was designed to encourage more trips on two wheels – including the school run. He said that "useful advice and resources" were available to help parents and children make the change.
"Research shows that at least half of journeys to school are two miles or less and – particularly at the moment – we really need people who have the option of using alternatives to the car to think about travelling in other ways to help avoid extra congestion at peak times," Mr. Starkey appealed.
Leyland mum Emma Rawlinson said that her family had used the opportunity provided by lockdown to "get into some good new habits"
"We realised that we were making lots of short trips in the car that we could easily make on our bikes.
"Cycling to school every morning is actually quicker for us than getting everyone in the car and negotiating the traffic. Being out and enjoying our local environment is so much nicer – and riding to school and back every day means there's one less car on our roads," Emma said.
Labour opposition group leader John Fillis welcomed the initiative but warned that parental concerns about capacity on public buses – and the potential lack of social distancing on school-only services – could lead to more pupils being dropped off and picked up at the school gates. He said each school needed its own bespoke plan to prevent congestion.
"We were already seeing conflicts between parents and locals even before Covid.
"We need some sort of strategy that keeps people moving – such as an enforcement officer to maintain the turnover of cars and ensure safety," County Cllr Fillis said.
Government guidance encourages schools to consider staggered start and finish times to reduce the number of children arriving at and leaving school at the same time. However, the overall length of the school day will remain the same.
The Department for Education has also suggested that buses could drop children off a short distance from the school gates if there is a safe route that they can walk for the final stage of their journey.
MAKING SCHOOL BUSSES SAFE DURING THE PANDEMIC
The government has told local authorities that they should identify the risks posed by all the possible ways in which Covid-19 could be transmitted on home-to-school transport – and then consider a series of measures to control them.
Under health and safety legislation, it is mandatory to implement anything that is "reasonably practicable" at reducing risk.
However, the government has stressed that school bus drivers will not be expected to enforce virus-control measures – and that their responsibility is simply to drive the vehicle safely.
In relation to school transport, the Department for Education recommends:
***Clean hands thoroughly and often
Children, drivers and passenger assistants must clean their hands before boarding transport and again on disembarking.
Drivers and passenger assistants should use alcohol hand gel or sanitiser at intervals throughout the journey – and should always do so after performing tasks such as helping a child into the vehicle or handling a child's belongings.
***Ensure good respiratory hygiene
The 'catch it, bin it, kill it' message – relating to coughs and sneezes – should be reinforced amongst children and their families . Children should be encouraged to carry tissues on home-to-school transport. These should be disposed of in a covered bin either on board or on arrival at school.
***Enhanced cleaning of vehicles
Frequently-touched surfaces should be cleaned after each journey wherever possible – and enhanced cleaning should take place at the end of each day. Standard household products such as bleach should be used.
***Minimise contact with the unwell
Children and drivers should not board a vehicle if they or anybody they live with has coronavirus symptoms.
***Face coverings for over-11s
These are mandatory on public transport and are now highly recommended on dedicated school buses – but those who are exempt from this requirement in other settings will not have to wear them while on board.
***Minimise contact and mixing
While it is acknowledged that maintaining social distancing and keeping children in the bubbles in which they will operate in school will not always be possible on school buses, it is recommended that other mitigating steps are taken. These include:
***allocating specific seats
***sitting children in ascending year groups
***sitting different schools together if children from more than one setting have to travel on the same bus
***a 'first in, last out' policy, with those children getting on first seated at the rear of the bus and the bus then filling forwards.
***Specific arrangements for children with special needs
Attempt to ensure social distancing for children who may spit uncontrollably as result of their condition. Be sensitive to the fact that some children with special needs may be distressed by wearing a face covering – and should not be expected to do so. However, acknowledge that others may be concerned if they and the people around them do not have their face covered.
196 – number of school buses operated in Lancashire each day
7,500 – number of children transported on the county's school buses
1 in 2 – of all morning peak journeys nationally involve trips to school