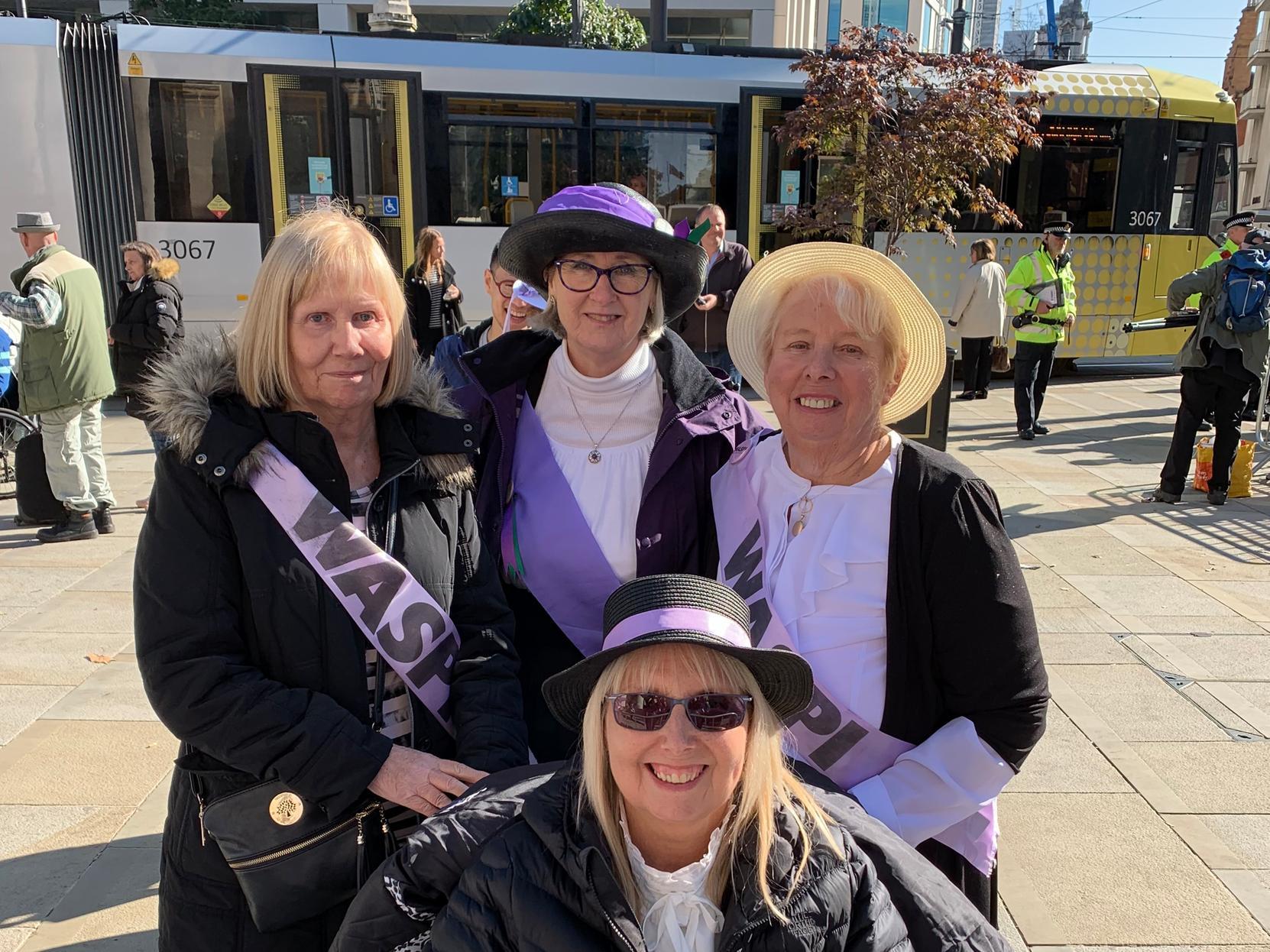 Susn Dutton (left), Mary Waterhouse (right) and Norma Elkington (front) with one of their fellow WASPI campaigners (centre)
Among them are three sisters who have joined rallies in London and Manchester to highlight what they call a great injustice to hard-working women due to their pension age rising from 60 to 66.
The national WASPI (Women Against State Pension Inequality) campaigners claim around 3.8 million women born in the 1950s have been treated unfairly by the too- rapid changes to their pension age, which is due to reach 66 later this year in line with men's.
They say the Government's lack of proper communication about the changes, which started to gain speed in 2011, gave thousands of women insufficient time to plan and prepare for the age rise, leaving some out of pocket by as much as £50,000.
Coun Holly Swales (centre) with Norma Elkington and Susan Dutton
A judgement on the WASPI case has been held up for almost three years by the outcome of a separate campaign, the Back to 60 lobby, which is calling for the pension age to be taken back to 60 for women.
That campaign has just lost a High Court ruling although its leaders say their fight will continue.
With that ruling now out of the way, the WASPI campaigners are awaiting a decision from the ombudsman on a test case of six women who say they have lost out by thousand of pounds.
Fylde coast sisters Norma Elkington, Susan Dutton, and Mary Waterhouse all originally expected to retire at 60 and geared their futures towards that.
Susan, 64, of Higher Green, Poulton, who runs her own swimming tutor business based at Rossall School, said: "Although we share the same concerns of the Back to 60 campaihn, we do not believe the pension age for women should go back to 60.
"We agree that men and women should retire at the same age, but we think it should be set lower, at around 63 – it is totally unfair that it has been pushed further and further away for women who for years thought they would receive it at 60.
"I thought I would get the pension four years ago and yet even now I am still not eligible to claim it until 2022 and have lost thousands of pounds.
"And with Covid, I have not been able to earn anything for the past six months and I am not able to claim it back from the Government.
"If it hadn't been for my husband supporting me I would be in all sorts of financial trouble.
"The point is, many women don't have that support and they have lost their homes."
Her sisters Mary, 68, and Norma, 62, agree.
When Mary, of Norbreck Road, Bispham, turned 60 in 2012, the state pension age had just risen and she wasn't able to retire as planned.
Wracked by pain from arthritis, the mother-of-three and grandmother had to continue as a community careworker because her husband and had been laid off.
Now finally retired, she said: "I would go to work on two sticks because I couldn't walk without them.
"I would never have considered going on benefits because that's not the way I was brought up, my dad would turn in his grave. I needed to keep going until my husband was finally able to get his pension."
Norma, who worked as a nurse but had to retire at 50 with a painful condition called complex regional pain syndrome, said: "We think women of our age group have been treated terribly."
The campaigners are being supported by Thornton Labour councillor Holly Swales, who has set up a new petition for the Waspi women.
The Wyre councillor, a prospective County councillor candidate, said: "I have not set the petition up as a councillor but as an individual because I feel so stromngly about it.
"It's not that these women are against equality, they are angry about the way it has been done because some of them, including my constituents, are suffering genuine financial hardship."
The petition can be found at www.change.org/p/government-local-authorities-general-membets-of-public-waspi-women-official-group-petition-fighting-the-injustice-holly-swales?