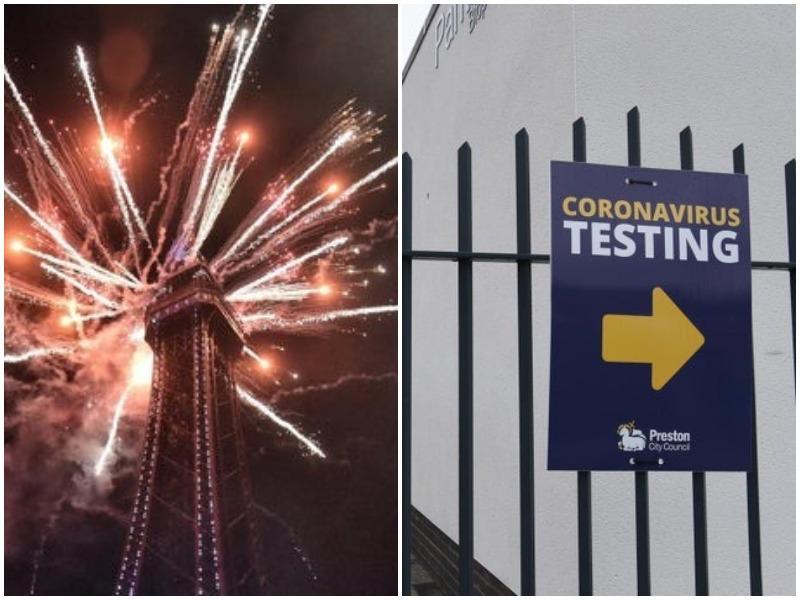 Last updated: Friday, 04 September, 2020, 07:14
Spike in coronavirus cases causes doubt over possible lifting of lockdown restrictions in Preston
Everything you need to know about Blackpool Illuminations Switch On 2020
Will you be watching tonight?
Blackpool Illuminations Switch On 2020: Bring on the light – countdown is on to big virtual Switch On – here is how to tune in
This year's Blackpool Illuminations Switch-On is going virtual with an all-star line up including Spice Girl Melanie C, UK chart-topper Joel Corry, Fleur East, Becky Hill, Tom Grennan, Diversity and Blackpool's very own Rae Morris – here's everything you need to know
The news comes less than a week after it was suggested that local lockdown restrictions could be lifted
Preston's Covid case rate fall goes into reverse
The rate of coronavirus cases in Preston has started to head back in the wrong direction less than a week after the statistics suggested that the city might be close to being lifted out of its partial local lockdown.
Lancashire's director of public health, Dr. Sakthi Karunanithi, said last Friday that there had been good signs of progress in combatting the recent spike in Preston's Covid count – and that he hoped restrictions could be lifted within days if the encouraging trend continued – read more
Looking for work?
More than 100 jobs on offer in Lancashire as Amazon boosts UK workforce to over 40,000
Here are Wednesday's headlines…
How many coronavirus cases are there in Lancashire?
There have now been 8,308 confirmed cases in the Lancashire County Council area, according to Public Health England figures.
Meanwhile, the total across Lancashire – including Blackpool and Blackburn – stands at 11,274.
The full breakdown of case numbers for every area in the county can be found by clicking HERE
The number of people who have tested positive for Covid-19 in Lancashire is now 11,274.
Two people charged and named after man stabbed in neck in Blackpool house
Police rushed to Egerton Road following reports a man had been stabbed at around 7pm on Monday (August 31).
The victim, a 36-year-old man, had suffered stab wounds to his neck and body and was taken to Royal Preston Hospital for treatment.
Officers have now confirmed Joshua Kenny, 27, and Susan Cleaver, 36, both of Knowle Avenue, Blackpool, have been charged with Section 18 wounding with intent and robbery.
A 36-year-old man was stabbed in his neck and body in Egerton Road.
County lines dealer who hid crack cocaine in his underpants to sell drugs in Chorley jailed
Paul Bolton was arrested on suspicion of possession with intent to supply Class A drugs after he ran away from plain clothes officers on Eaves Green Road on December 16, 2019.
After being chased by police the 22-year-old was reportedly found attempting to discard a bag containing wraps of crack cocaine in a garden in Moor Road.
Police found he was found in possession of over £200 in cash and a mobile phone which contained messages related to drug-dealing.
More wraps of crack cocaine were also found hidden in Bolton's underpants when he was searched in custody.
Paul Bolton
How many people have died of Covid-19 in Lancashire?
Blackpool Teaching Hospitals NHS Foundation Trust – 243 (Most recent death recorded on August 14)
East Lancashire Hospitals NHS Trust – 212 (One death was recorded on August 21, August 22 and August 23)
Lancashire Teaching Hospitals NHS Foundation Trust – 250 (Most recent death recorded on July 29)
University Hospitals of Morecambe Bay NHS Foundation Trust* – 171 (Most recent death recorded on August 14)
* Note: As well as the Royal Lancaster Infirmary, this trust also runs two hospitals outside Lancashire – Furness General Hospital, in Barrow, and Westmorland General Hospital, in Kendal – so it is not possible to say how many of the deaths were in Lancashire.
Bolton recorded the largest increase in cases in the last 24 hours, following the announcement that lockdown restrictions would be eased in the area from today.
Coronavirus in the North West: This is every confirmed case in the North West on Wednesday, September 2, 2020
Another 200 people have tested positive in the North West, bringing the region's total number of cases to 53,577 as of Wednesday, September 2, 2020 – read more
Backlash over local lockdown lifting in Greater Manchester
Local lockdown restrictions have been lifted in parts of northern England despite a backlash from leaders in Greater Manchester, with Mayor Andy Burnham blasting the decision as "completely illogical".
It comes after council leaders in Bolton and Trafford felt their pleas for restrictions to remain in place, following a spike in cases, went "completely ignored" by the Government.
Social gatherings between two homes can resume for the first time in weeks from Wednesday in the two boroughs as well as Stockport, Burnley, Hyndburn and parts of Bradford, Calderdale and Kirklees.
But a sharp increase in the local infection rate in Bolton and Trafford led to council leaders pleading with the Government for a delay just hours before restrictions were lifted.
Greater Manchester Mayor Andy Burnham said the easing of coronavirus restrictions in Bolton and Trafford was "completely illogical", and urged people to "continue to follow the guidance" not to have social gatherings in their home.
He told BBC Radio 4's Today programme: "We find ourselves at a completely unsustainable position this morning – that's the politest way I can put it.
"Overnight we've had restrictions released in two boroughs where we've got a rising number of cases – in one case in the red zone.
"And neighbouring boroughs are still under restrictions but with much lower numbers of cases.
"These restrictions were always hard to explain to the public but they are completely illogical now."
The rate of new Covid-19 cases in Bolton has jumped from 18.4 per 100,000 people in the seven days to August 22 to 59.1 in the seven days to August 29, with 170 new cases, making it the second worst in the country for infections rates after Pendle with 71.7 per 100,000 people.
Similarly, the rate in Trafford has also risen, from 19.4 to 35.4, with 84 new cases.
Three arrested after fire breaks out at Devonshire Primary Academy in Blackpool
A fire at a primary school in Blackpool has led to the arrest of three people on suspicion of arson.
The arrests were made last night (September 1) after a blaze broke out on the first floor of Devonshire Primary School in Devonshire Road at 6.45pm.
Fire crews from Bispham, South Shore, Fleetwood and St Annes battled the blaze with hose reels and were able to contain the fire on a balcony to prevent it from spreading to the main building.
The fire involved play equipment on the roof balcony and is believed to have been started deliberately. An arson investigation is expected to take place this morning (September 2).
At 9pm last night, Lancashire Police confirmed that three people had been arrested in connection with the fire. The force has also identified a fourth suspect, who remains wanted.
A police spokesman said: "We are dealing with an incident at Devonshire Primary School where a fire has been discovered.
"We have arrested three and enquiries are ongoing to locate the fourth suspect."
Lancashire Police closed Devonshire Road from Caunce Street to the junction with Talbot Road while firefighters tackled the blaze.
A spokesman for LFRS said: "Firefighters from Bispham, South Shore, Fleetwood and St Annes were called to reports of a fire at a commercial building on Devonshire Road, Blackpool.
"On arrival firefighters found the fire on the roof of a first floor balcony.
"They were able to quickly contain the fire and prevent the fire spreading to the main building using two hose reels.
"The cause of the fire is now under a joint investigation alongside Lancashire Police."
If you have any information about the fire, you can contact Lancashire Police on 101, quoting incident LC-20200901-1311.
We'll be with her all the way!
BBC Strictly Come Dancing: Good Morning Britain presenter Ranvir Singh confirmed as fourth celebrity contestant
Preston's Ranvir Singh is the fourth celebrity to be officially confirmed for the new series of Strictly Come Dancing – read more
These were Tuesday's headlines…
Firefighters rush to blaze at Devonshire Primary Academy in Blackpool
A fire broke out at Devonshire Primary Academy on Devonshire Road this evening (September 1).
At least four crews from Lancashire Fire and Rescue Service (LFRS) rushed to the blaze – which is believed to have started on the first floor of the building – at around 7pm.
No official details have yet been released by LFRS, but eyewitnesses say the fire has been brought under control.
Lancashire Police closed Devonshire Road from Caunce Street to the junction with Talbot Road while firefighters tackled the blaze.
LFRS and Lancashire Police have been approached for comment.
A fire broke out at Devonshire Primary Academy.
Firefighters tackle washing machine blaze at Preston house
Two fire crews rushed to Blackpool Road after receiving reports of a blaze at a residential property today (September 1).
A washing machine was engulfed in flames when firefighters arrived at the scene shortly after 9.10am.
Firefighters extinguished the blaze using one hose reel and a ventilation unit before moving the washing machine outside.
No casualties were reported and fire crews were at the scene for approximately 25 minutes.
A washing machine was engulfed in flames at a residential property in Blackpool Road.