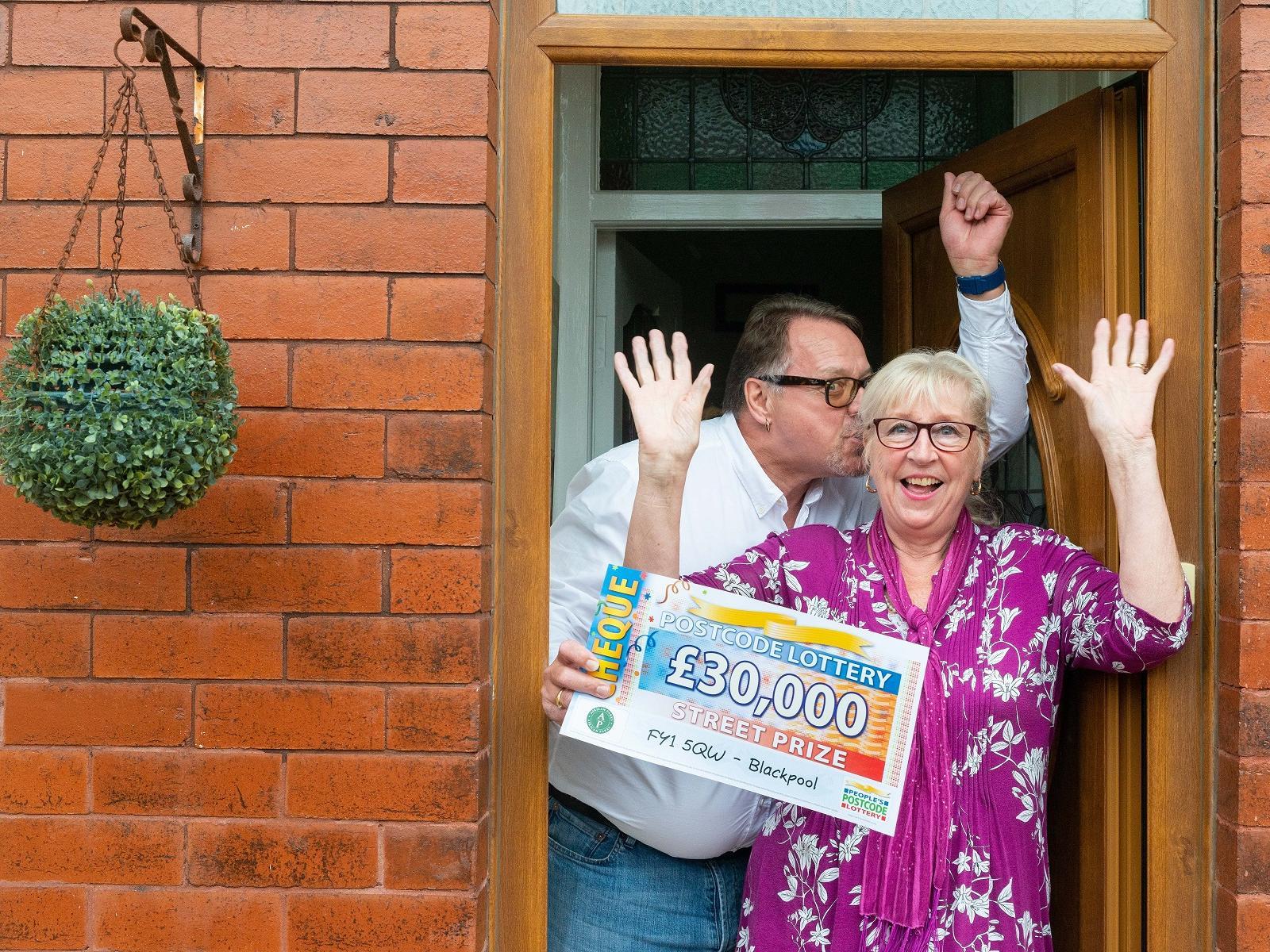 Eight families living in Westmoreland Avenue each won £30,000 with People's Postcode Lottery.
Their postcode, FY1 5QW, was announced as a winner today bringing a total of £240,000 to their street.
The winners received visits from People's Postcode Lottery ambassador, Judie McCourt, who revealed their cheques.
Steven Hay and his wife Dianne, of Westmoreland Avenue, Blackpool, have won £30,000 on the Postcode Lottery
The visits were pre-arranged and special arrangements were in place to ensure social distancing rules were observed.
Susan Spearman, 68, and her husband Joe were thrilled when they found out they'd won £30,000. She said: "This is just fantastic, no-one will believe me when I tell them this. My husband is 88 this weekend so it will be a double celebration.
"I had no idea how much it would be, so I just tried to think small. We've ordered a new front door for £2,000 and I said to my husband I'd be happy for it to just cover that. Well it's a lot more than that! I don't think it's really sunk in how much it is. I'm still floating"
The couple plan to spend their winnings on a dream holiday across Canada, as well as treating their family. Susan added: "We've always fancied taking a trip across Canada, from Toronto to Vancouver taking in the Rockies. We had it planned a few years ago but Joe wasn't well, so we can finally book it again when it's safe to go. It will be worth the wait I'm sure.
Susan and Joe Spearman
"We have a few grandchildren who we will treat too. My youngest is nine and after he came home from school he said, 'Wow nana are you a millionaire?!' I told him I wasn't quite, but it was still plenty."
Neighbour Cheryl Satchell, 36, was another big winner and the full-time teaching student and mum of three will use her winnings to put a deposit on a house.
She said: "I've been wanting to put a deposit down on a house for a while, that's my main priority. I haven't thought about much else! It's still not sunk in properly."
And with three children under the age of 10, Cheryl plans to take them on holiday when she can.She said: "It's been tough for them all having to stay inside. My two boys had football taken away from them so I want to treat them to some time away when we can.I haven't thought about getting anything else for myself. A house and a holiday will be enough."
Donald Copp
Julie Richardson, 58, a carer for her mum, already knows how she will be spending her £30,000.
She said: "It's amazing, I'm just happy to share it with my three boys and see them happy. They're all in their 30s now, but they still deserve it. I've got two grandsons and I always said I'd take them to Disney. Obviously, we'll wait until it's safe but that's the plan."
When asked if she'd treat herself to anything, Julie said: "Well I love Disney and theme parks so that will be a treat for me too. I thrive on Disney."
Other winners included Donald Copp, 73, and Steven Hay, 57, as well as three others who chose to remain anonymous.
Cheryl Satchell
Judie McCourt said: "Huge congratulations to all of our winners in Blackpool. Blackpool is obviously one of my favourite towns.
"It sounds like the prize money will be put to good use on dream holidays and treats for the family, and I'm sure those we didn't meet will have big plans too.
"I usually like to give our lucky winners a big hug and it'll be a while before I can do that again. But it was lovely to see their reactions – even from a distance."
Julie Richardson