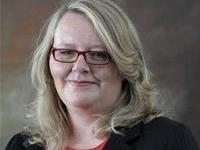 New council leader Lynn Williams
The Claremont ward councillor, who has been acting leader since Coun Simon Blackburn stood down from the position at the end of June, was appointed at a meeting of the full council tonight (Monday.)
Councillors appointed the new leader for the remainder of the current administration until 2023.
Coun Williams was first elected to the council in 2015 and was previously chairman of the planning committee, before being appointed deputy leader and cabinet member with responsibility for children's services earlier this year.
She is believed to be the first woman to be leader of Blackpool Council.
Coun Blackburn stood down after he was suspended from the Labour Party pending an investigation into allegations made against him.
Coun Blackburn has denied the allegation and said he has "no doubt" the investigation will "confirm his innocence".