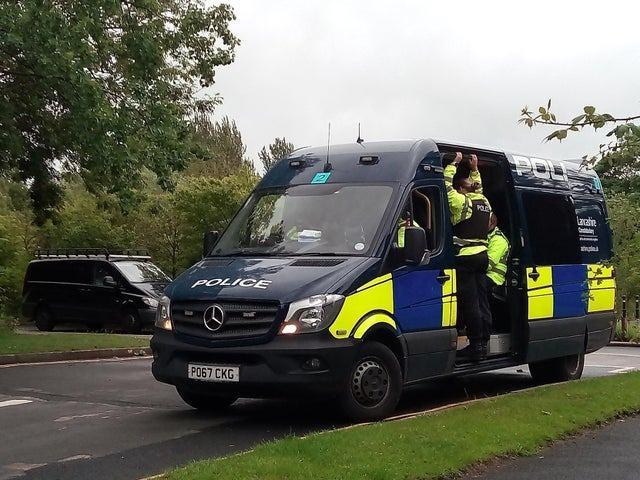 Officers quickly responded to reports of people setting up hi-tech DJ equipment, including decks, speakers and a generator, at the slipway near the Starr Gate tram depot at 4.30pm.
Police said they believe the set-up was being prepared for an illegal rave that had been due to take place later in the evening.
The suspected 'organisers' of the event were told to leave the area and a dispersal order was put into immediate effect..
Lancashire Police said a 'dedicated policing operation', including increased patrols, had been put in place to monitor gatherings in the area.
Blackpool Supt Damian Kitchen said: "We received information at around 4.30pm yesterday (July 1) that a number of people were setting up a generator and sound equipment near to the sand dunes, near Starr Gate tram depot.
"Further information indicated that people were being invited to gather there for an illegal music event.
"Using powers under the Criminal Justice & Public Disorder Act, I issued a S63 notice to the organisers and they were directed to leave.
Police are ramping up patrols after a disrupting a planned rave at the sand dunes in Squires Gate, Blackpool yesterday (July 1)
"We will not tolerate illegal gatherings and we hope this demonstrates that we are willing to act quickly to stop them and ensure people are kept safe.
"We do not want to stop people enjoying themselves, particularly after such a difficult period for all.
"However, coronavirus has not gone away and these gatherings can grow into unsafe places for young people, with no safety considerations, often with illegal substances circulating, and can result in violence and anti-social behaviour."
A spokesman for Lancashire Police added: "To ensure public safety and adhere to the current government guidelines on COVID-19 we have now put a dedicated policing operation in place, which will see an increased police presence in this area.
"A dispersal order has been put in place for this evening to assist in the event of any gatherings taking place.
"Whilst we will endeavour to engage and explain with any individuals attempting to attend this event, please be aware that we will also enforce using the dispersal powers which have been put in place. Which could ultimately see arrests being made of individuals failing to adhere to these powers."
Outdoor gatherings of more than six people are currently forbidden by the Government's lockdown rules.
Earlier that month, a man died of a suspected drug overdose at a 'quarantine rave' at Daisy Nook Country Park in Oldham, which was attended by around 4,000 people. A separate rave at Carrington, which attracted around 2,000 people, resulted in three stabbings and a rape.